FTP software enables admins to manually transfer exported SIS data for import into Dyknow throughout the year. FTP – or File Transfer Protocol – is simply a tool for moving files online, to and from servers.
This document is a resource to understand how to:
Prerequisite: Manage Roster Import Settings
INSTALL FTP SOFTWARE
If your SIS does not have a built-in FTP solution, Dyknow recommends that schools use FTP client FileZilla – it's free! – for connecting and placing files to Dyknow's FTP folder.
Follow the steps below to learn how to install FileZilla.
1. Click here to navigate to the Download FileZilla Client webpage.
2. Locate the FileZilla file appropriate for your operating system from the list of available downloads and click the link adjacent to the red arrow icon

to begin downloading; the install file will begin downloading immediately.
3. Click the downloaded file to open it from your browser window; a pop-up window featuring the FileZilla License Agreement will appear.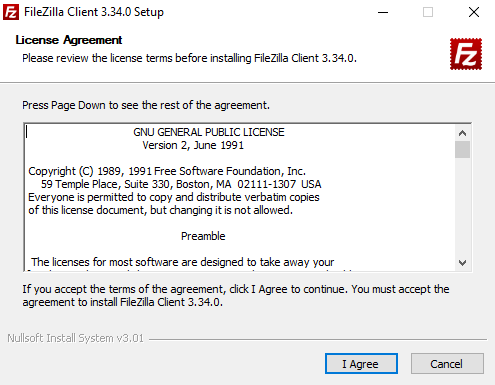 4. Click I Agree.
5. Follow the remaining on-screen instructions to complete the FileZilla installation.
6. Continue to Setup Dyknow FTP Folder Connection.
SETUP DYKNOW FTP FOLDER CONNECTION
Follow the steps below to connect to the Dyknow FTP folder using downloaded FTP client FileZilla.
1. Open FileZilla.
2. Click File from the FileZilla main navigation menu.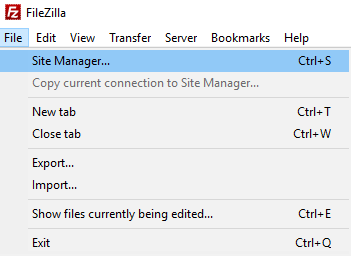 3. Click Site Manager; the Site Manager pop-up window will appear.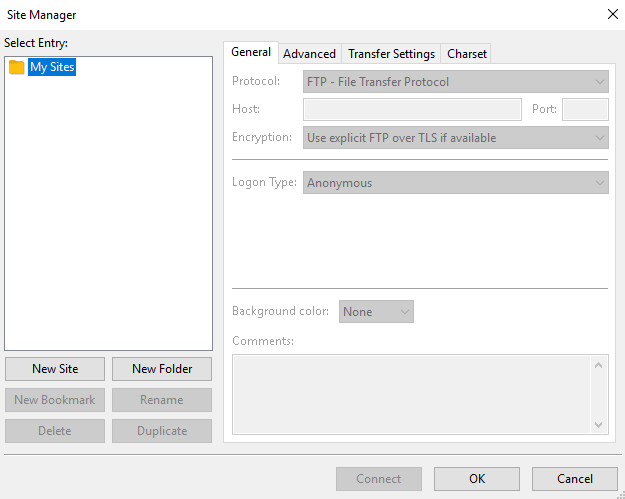 4. Click New Site; an untitled New site will appear under your My Sites folder in the Select Entry section.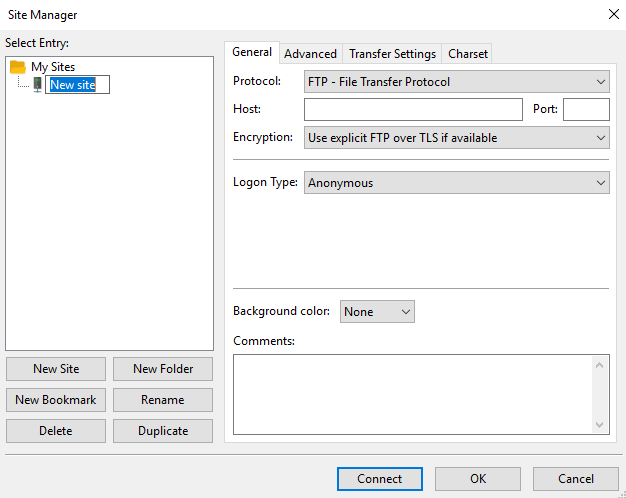 5. Enter Dyknow as the new site name in the highlighted New site text box.

6. Hit the enter key or click outside the text box to save your new Dyknow site name.
7. Enter sftp://dito.dyknow.com into the Host field.

8. Select Normal from the Logon Type picklist.

9. Enter your unique User name for the Dyknow FTP folder in the User field.
Note: Find your User name in the Dyknow Import Manager: Setup tab. It will be your school/district name, consistent with your Dyknow account's vanity URL.

10. Enter your unique Password for the Dyknow FTP folder in the Password field.
Note: Find your Password in the Dyknow Import Manager: Setup tab.

11. Click Connect.
12. Very a successful connection in the Status window (there may be several Statuses); a successful connection will appear as Status: Directory listing of "/" successful.
13. Continue to upload your data files to the FTP folder.