Overview
With QR Codes, you can allow students to use a physical QR code to access Rhithm without needing to remember their login information (password, Google, Clever, etc.). Students can hold their Rhithm QR code up to their device webcam to be logged in automatically.
On this page:
Technical requirements
One of the following browsers:

Google Chrome
Apple Safari
Mozilla Firefox
Microsoft Edge

A printer or method of distributing codes to students
Compatible devices with a webcams (Chromebooks, iPads, computers, mobile devices, etc.)

Note that any kind of camera/webcam will work here
Generating login QR codes
Teachers and administrators can generate QR codes for students by navigating to their "Settings" page.
Generating individual codes:
Go to the "Users" tab
Find a student for whom you'd like to generate a QR code
Click Actions > Download QR code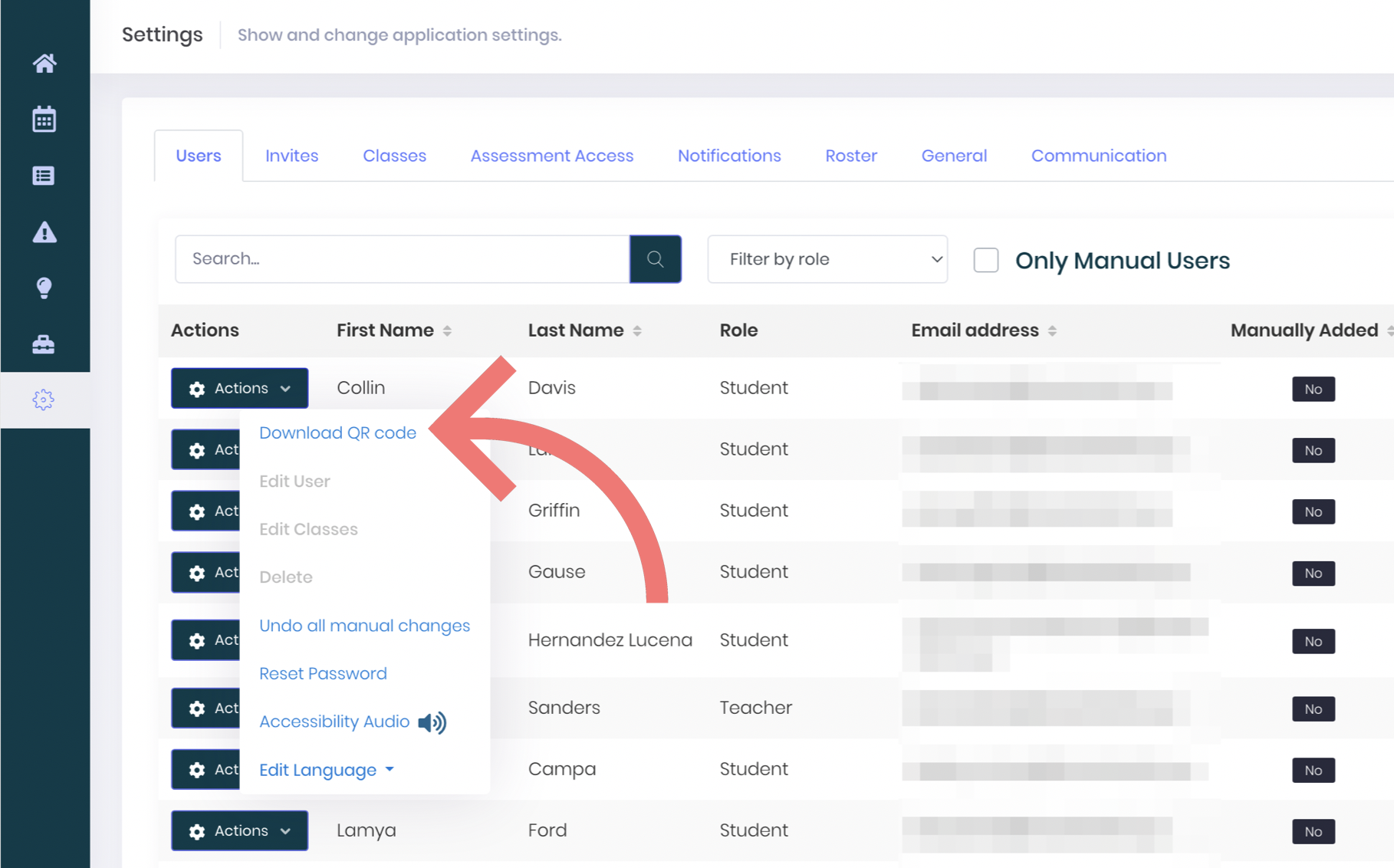 Generating codes for a whole class
Go to the "Classes" tab
Find a class for which you'd like to generate all student QR code
Click Actions > Download QR code
Logging in with QR codes
Students can scan their QR codes on the Rhithm login page regardless of their rostering/sign-on method.
Navigate to https://portal.rhithm.app/account/login
Click "Sign-in with QR code"
When prompted, grant permission for the site to access the device's camera
Hold your QR code in front of the camera

Frequently asked questions
What are some best practices for using QR codes?
QR codes are designed to help younger students or students with special needs access Rhithm more easily. They also work great with shared devices when students may need to get logged in and out of Rhithm quickly.
QR codes can be used alongside your district's standard login method, so feel free to create them or any students or classes they may benefit.
For security purposes, we recommend generating new codes at the beginning of the school year and/or semester.
I roster with Clever/Classlink/Google classroom, can I still use QR codes with students?
Yes! Rhithm QR codes work regardless of your district's rostering method.
Do QR codes expire?
If a student does not use a QR code to log in for 15 days, the code will expire. After this, a teacher or administrator will need to generate a new QR code for them
What do I do if a student loses their QR code?
Generate a new QR code from a teacher or administrator account. This will void access from the previous code.
Can adult users log in with QR codes?
Not at this time. Please share any feedback with support@rhithm.app if this is something you'd be interested in using.