Introduction to Application Profiles
The Application Profiles feature is a great way for district and school administrators to make smarter decisions about edtech usage and investments by streamlining the process of evaluating applications within the Reveal product. This feature gives an in-depth view of an application including its description, website link, privacy policy link, and third-party review service links. Application Profiles not only streamline the application evaluation process but also addresses privacy concerns and time-consuming research, reinforcing Securly Reveal's commitment to helping education leaders work faster and smarter. 
Accessing Application Profiles
You don't have to go far to look for application profiles. Simply go to the Usage Explorer tab and filter data by the application you want to view as indicated in the screenshot below. (Check out this article to learn how to use the Usage Explorer tab. )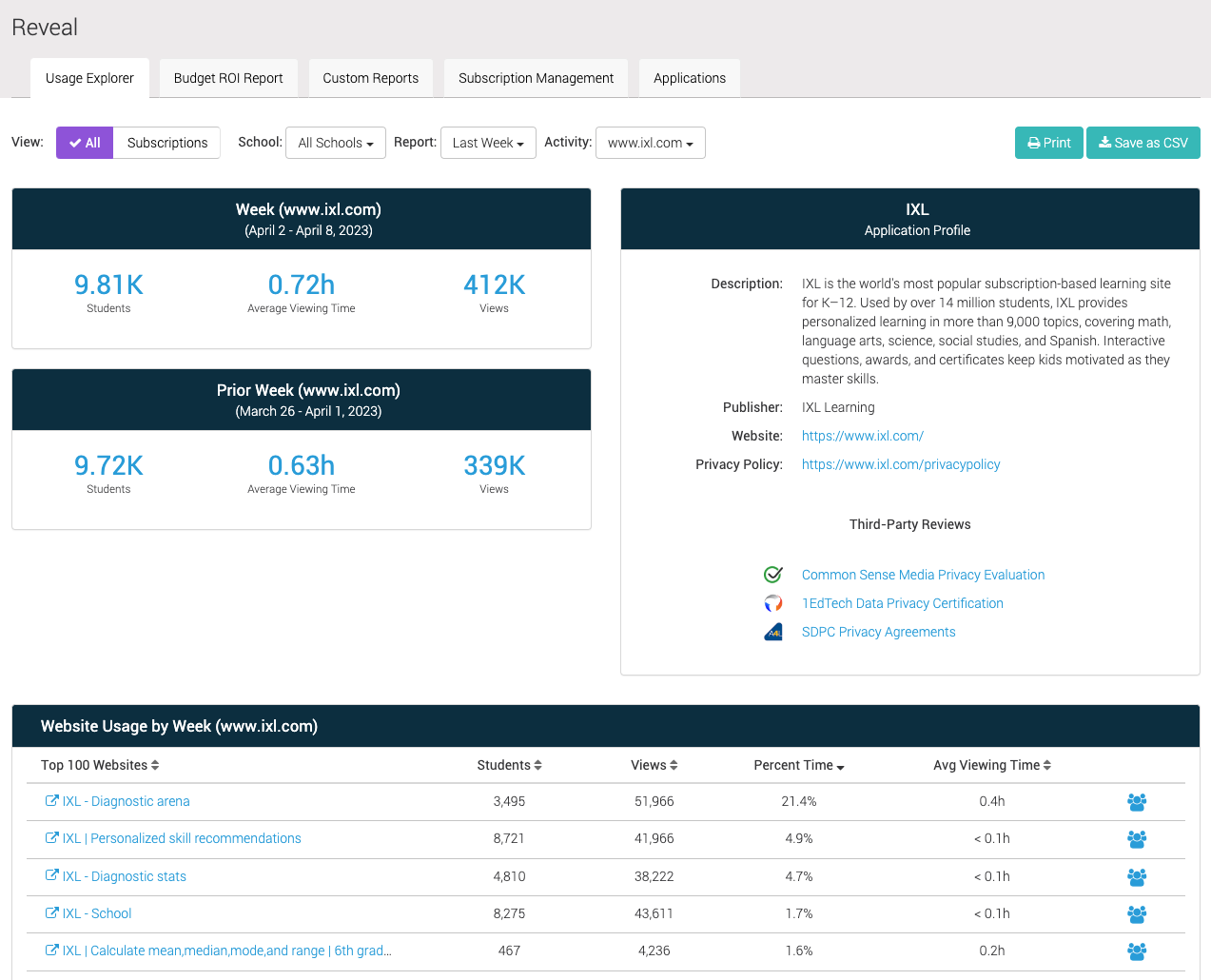 Understanding the Application Profile details
The Application Profiles feature provides various types of information to help you better understand each application. Here's a breakdown of each field:
Description: This section offers a brief overview of the application, including its main features and the problems it aims to solve. The description helps you quickly understand the purpose and functionality of the application.
Publisher: The publisher field displays the name of the company or organization responsible for developing and maintaining the application. This information can be useful in understanding the credibility and reputation of the application provider.
Website: This field provides a direct link to the application's official website. By visiting the website, you can find more detailed information about the application, its features, and any additional resources provided by the developer.
Privacy Policy: The privacy policy link directs users to the application's official privacy policy page. This is crucial for education leaders, as it allows them to review the data handling practices of the application and ensure they align with their school or district's privacy requirements.
3rd Party Reviews: This section offers links to reputable third-party review services that have evaluated the application. These independent reviews can provide valuable insights into the application's strengths, weaknesses, and overall effectiveness in the educational context.
By familiarizing yourself with each field in the Application Profiles feature, you can leverage this enhancement to make more informed decisions about the applications used in your classrooms and better support your students' success.
Updating Application Profiles 
The information provided in the Application Profiles feature is manually updated and maintained by the Securly team. Our team members periodically review and update the application data to ensure that it remains accurate, relevant, and up-to-date for our users.
However, given the dynamic nature of the edtech landscape, there might be instances where you notice outdated information within a profile. If you come across any discrepancies or outdated details, we encourage you to submit a support ticket to request an update. Our team will promptly review your request and make the necessary updates to the Application Profile, ensuring that you always have access to the most current and accurate information.
By actively collaborating with our users and continuously updating the Application Profiles, we strive to maintain a high-quality, valuable resource for educational leaders to make informed decisions about the applications they use.