We believe that in order for student activity data to be actionable, it should be accessible to the right people including teachers, counselors, parents* etc. The school admin, therefore, has the ability to create delegated reporting groups and allow users access to student activity reports.
You can create a new group,  or add members to an existing group, and set permissions for delegated reporting. Note: Only the super admin has the authority to create delegated reporting groups and add users.
New Delegated Reporting Group
To create a delegated reporting group
Log in to your Securly account

Navigate to the Staff tab

To create a new group click 'Create a New Group'. A pop-up will be launched where you enter the group name and the email(s) of the teacher, staff member etc. separated by a comma.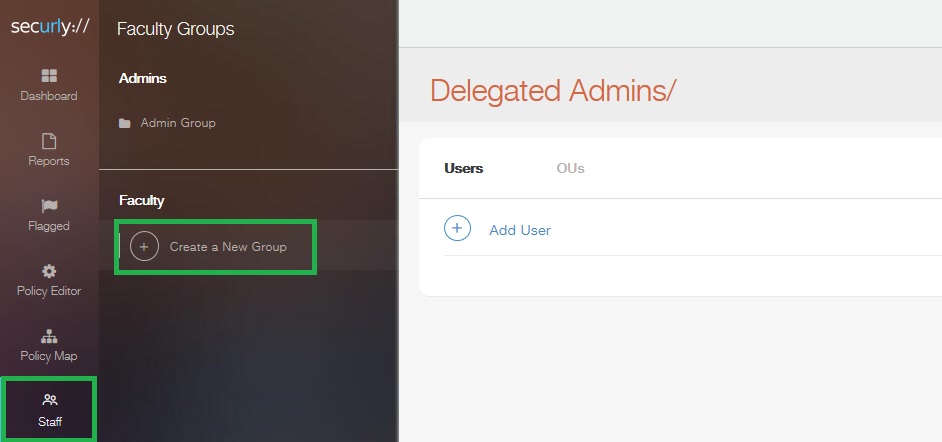 Note that you need to enter at least one email to create a group. Ensure that you enter an email address belonging to your school domain. Personal email ids will not work.
Select from the checkboxes to enable delegated reporting users to receive blocked activity email alerts, view the flagged activity tab, receive Auditor email alerts and receive flagged activity email alerts. You can select the checkboxes depending upon the level of insight you want to provide the delegated reporter.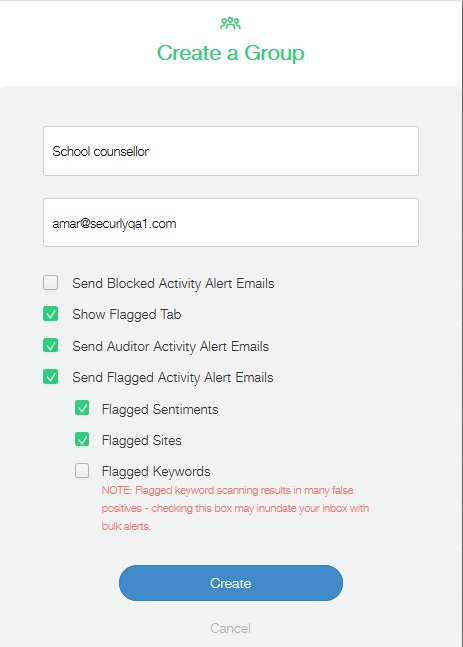 When you select the 'Send Flagged Activity Email Alerts' checkbox, you will be further prompted to choose which types of emails should be sent - those for flagged sentiments, flagged sites or flagged keywords. You can choose all three and the delegated reporting user will receive email alerts of all such activities for their assigned OUs.
Add Permission to View OUs
Once the new delegated reporting group has been created, you need to assign OUs to the group. The delegated reporting user would be displayed reports only for students belonging to those OUs.

Add Users to a Group
To add a staff member or teacher to an existing group, click 'Add User'. A pop-up will be launched, where you can enter the email(s) of the teacher, staff member etc. separated by a comma.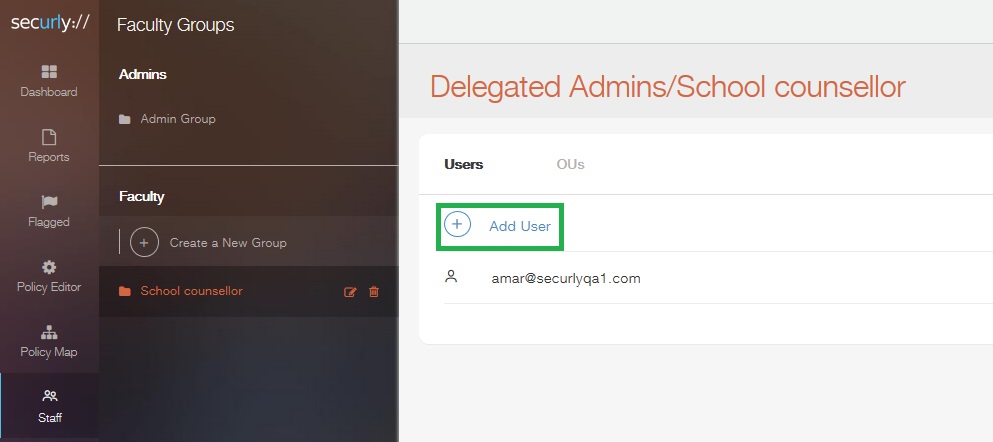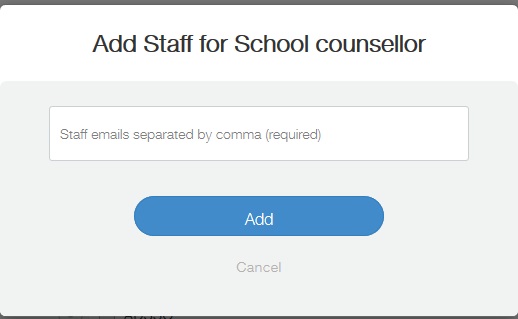 *To learn more about parent's access to their kid's activity click here.