New
App Selector

An app selector is now available on the top bar of Device Console to allow easy switching to other Securly Products. Single-sign-on will allow for direct access without the need to log in again.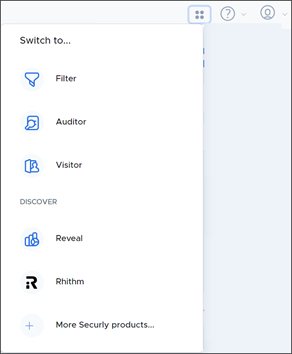 Option to stop running class session at end of school hours
It's now possible to choose whether running class sessions should continue to run past the end of the configured school hours or whether they should automatically stop. The setting is found under Settings / System.

Thanks to Roger H. at Bourbonnais ESD 53 for the feature suggestion!
Canvas sync settings allow choice of fields to use for teacher ID
Canvas configuration settings now allow the admin to choose which field to use for creating teacher IDs in Device Console: email or login_id. This setting is found under Settings/Roster Integrations/Canvas.

Thanks to San Lorenzo USD for the feature suggestion
Student Screen Sharing Improvements

Student Screen Sharing now notifies the student when screen sharing has ended
Student Screen Sharing: A notification that screen sharing in in progress now appears on the Classroom extension menu
Teachers now see an indicator in thumbnail view to indicate which students screen is being shared
Fixes
Device online browser closed instead of waiting on device image (6796)
Fixed delays in getting new thumbnails when returning to thumbnail view
Word wrap for teacher chat was not working
Blocklists and collections were displayed on start class options screen (6679)
When starting a class and choosing "force close all tabs" in combination with Site Lock to a collection and the "Do not open tabs" option, the browser would close first and nothing would open. Now the browser opens to a blank page.