App management moved to organization level

App management has been moved from the Location level to the Organization level. This allows an app to be distributed to any device or group from a single entry in the single organization-wide apps list. All existing apps from all locations have been merged into this new app location under the Organization section of the menu.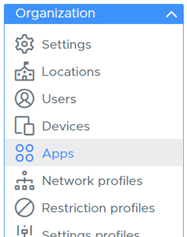 Upload and deploy custom config files for Mac
It's now possible to upload a custom config file (such as a .mobiconfig file) to be distributed to Mac devices. These can be files created by hand, through Apple Configurator or Apple Profile manager and contain any number of settings including configuration settings for specific apps.

Management for custom config files can be found in the Settings Profiles are for Mac on a new tab labeled "Custom Profiles"


Thanks to Jeff B. at Alliance Christian Academy for the feature suggestion!

User injection for student email from Apple School Manager (6471)

It's now possible to substitute the student email address (not Apple ID) from Apple School Manager into PAC URLs, plist files, and Mac custom config files. Previously, only the email address recorded in the student record of Device Console could be used. The variable name is $asmEmail.

See User Injection Variables that may be used in Securly MDM – Support for more details on variables.

Thanks to Nick B. at Notre Dame Academy for the feature suggestion!