The blocked page, which is displayed to users when they attempt to access a blocked page/website, has been revamped to include more relevant information about the blocked page. This information is expected to help school admins and the support team troubleshoot blocked pages more efficiently.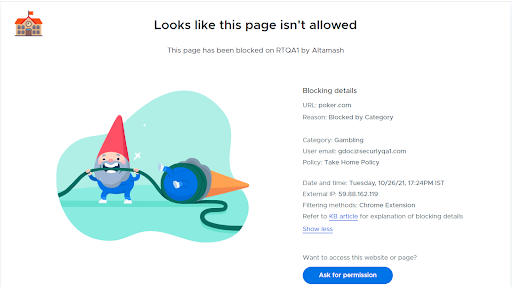 The new blocked page contains the following information:
URL: The actual page that the user attempted to visit.
Reason: The reason why the page was blocked.
Category: The category the page belongs to.
User email: The email address of the user trying to access the page.
Policy: The policy the user is assigned and under which the page has been blocked.
Date and time: The timestamp for when the page was blocked.
External IP: The IP address from where the page was accessed.
Filtering method: This shows if the device is filtered by DNS, SmartPac, Chrome Extension, etc.
The user is first displayed only # 1 & 2 listed above. If the user or admin needs more information they can click the 'Show more' button which expands to show # 3 to 8. This information can be shared with the Securly support team and can help them troubleshoot if the school raises a ticket for the blocked page.
The user can also request access to the website by clicking the 'Ask for permission' button.