SUMMARY

The quarantine images feature is an enhancement to the nudity scan feature that flags nude images in Google Drive and blocks them from being shared with any more people. Securly's AI detects nudity in images and based on the confidence level determined by admins locks the owner's access to the image, thereby placing it under quarantine.
Schools that have the nudity scan feature enabled would be able to see the Quarantine tab in their Account Settings page. Schools have the ability to enable or disable the feature any time thereafter by toggling the button as shown in the screenshot below.

The confidence level for which images should be quarantined can also be configured by the admin. If you select confidence level 3, it means that images marked 3 to 5 will be quarantined, while those marked 1 & 2 would only be flagged for nudity.
You can also choose if the file owner would continue to view the image by checking the checkbox for that field. You also have the option of determining if emails should be sent every time an image is quarantined or released from quarantine.
Make sure that you have the email alerts for nudity detection turned on in your Account Settings. Otherwise, you will not receive email alerts for quarantined images. Learn how to turn on email alerts here. Note that the email address should be an address that can be accessed and monitored by an authorized administrator or staff member. Do not add generic email addresses such as support@schoolname.com or distribution lists.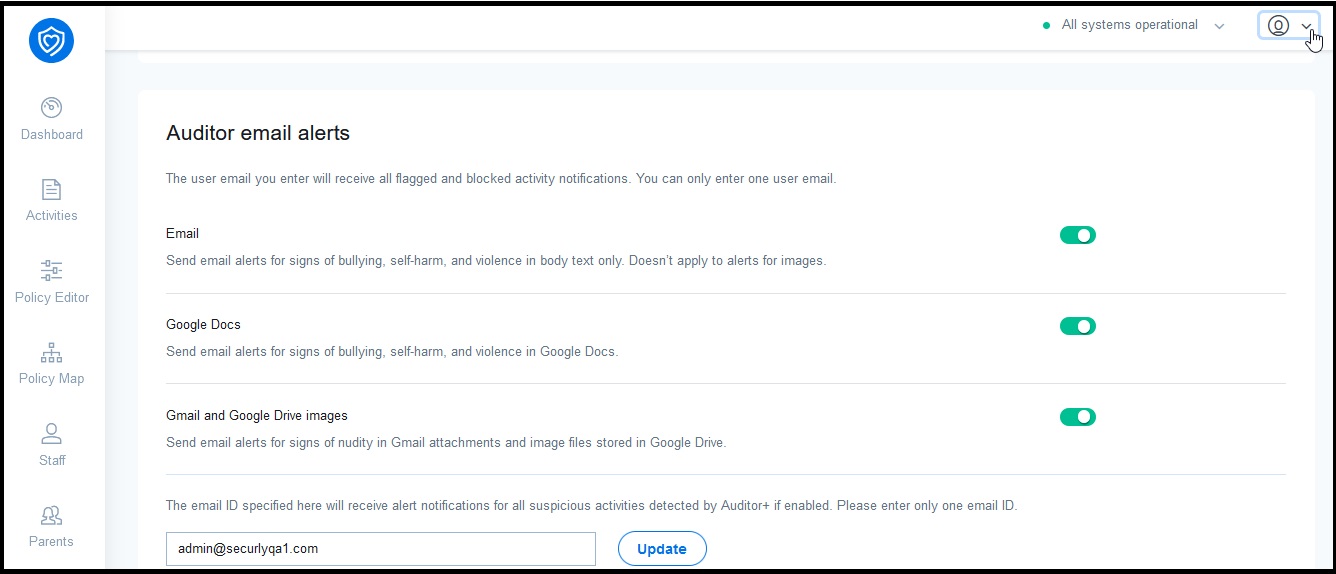 Note that if you make changes to the admin roles in your G Suite account, please reimport users to Securly Safety Console so that faculty group members and Securly Admin group members can manage quarantined images as designed.
HOW TO CONFIGURE IMAGE QUARANTINE (BEST PRACTICE)
Create a new user in Google Workspace that will be designated for the Image Quarantine feature.
Login to Securly Aware and create a Faculty group that will be designated for Image Quarantine access.
Add the new Google user to the Image Quarantine Faculty group. This will ensure that all quarantined images are not shown to teachers/admins but only shown to the designated Image Quarantine user.
Select all Student OUs for the Image Quarantine Faculty group.
If additional admins/staff need access to Image Quarantine, that can still be enabled on other Faculty groups if desired.