Along with assigning school-owned devices to students, schools can also choose to allow students and staff to bring their own devices (BYOD) to school. For some schools, BYOD might be a route to go in the face of budgetary constraints.
The BYOD network may require schools to be equipped differently. It is very important that you keep BYOD architecture segmented from the rest of your network so that your network is not affected by any software, malware, etc. On those BYODs. Once your primary BYOD segmentation is in place, you can then go ahead and determine what filtering policy would be applicable to them.
You can either choose to assign them standard Securly policies that you would assign to users on school-owned devices.
Or you can go with the guest network policy which provides basic filtering but does not do SSL inspections or log all types of activity etc.
There are two types of Policies, standard filtering policies, and Guest Network Policy. Standard filtering policies are used for school-owned devices. There is also a Securly Guest Network policy that is great for visitors that don't have user accounts or don't want to install the Securly Certificate. Please click here for more information on the Guest Network Policy. BYOD can be used for either policy depending on the preferences of your district.
What options are best for my district's BYOD?
If you want an easy experience with your BYOD, it is advisable to use the Guest Network Policy as an easy baseline policy.
For greater insight into the network traffic on BYOD, filter them the same as a school device using the standard filter policy. BYOD traffic will be logged to the user's history the same way it is logged for school devices.
Tips for Installing the Securly Certificate to BYOD for Standard Filtering Policies
Set up a splash page on your Wireless Network to direct you to the certificate download.
Set up a page on your school's website with instructions for installation.
IT admins can manually install the certificate for BYOD.
Send instructions via email to all users.
Note that the device without the Securly certificate is filtered the same way as the device with the certificate. The Securly certificate is only used to decrypt HTTPS sites. If the certificate is missing there will be an SSL error.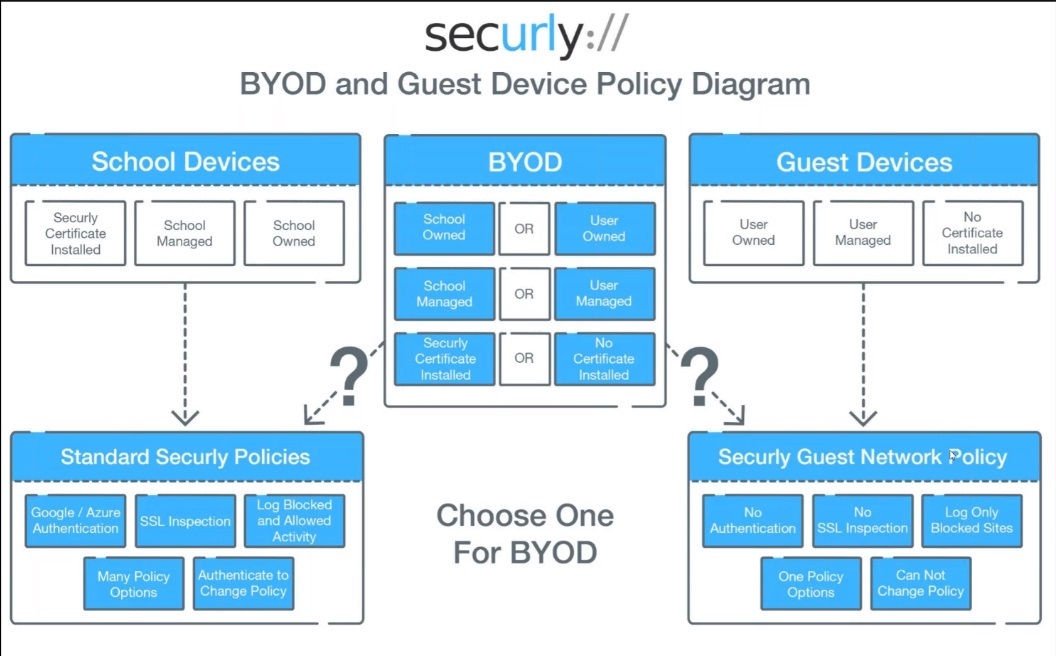 You can view our webinar on BYOD and guest network best practices at https://vimeo.com/215063352