Enhancements 
Date Range Picker for Usage Explorer 
Custom Date Selection:

Tailor your data insights by specifying custom start and end dates. Dive deeper into specific periods outside of the standard filters.

Simplified Pre-set Ranges:

For quick insights, we've introduced four predefined ranges:

Last 3 Days
Last Week
Last Month
Custom Range

Quick Calendar Views:

Navigate through dates effortlessly with our new monthly calendar view. A user-friendly way to select start and end dates.

Auto Adjustment for Available Data:

Selecting a custom date range with no data? Our system has got you covered. It will automatically adjust to the closest available data period, ensuring you don't miss out on important insights.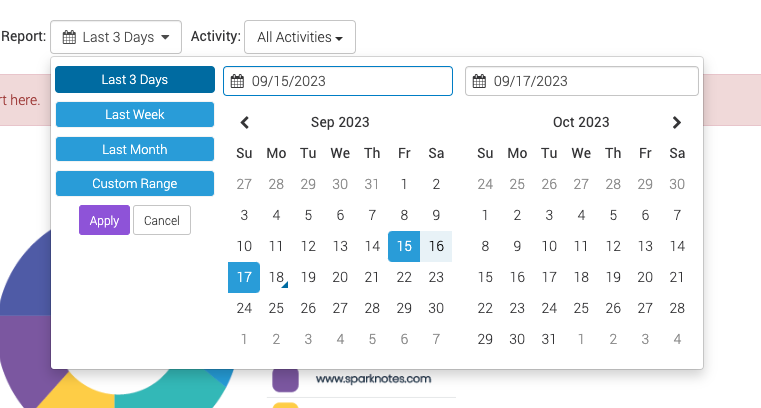 Version 1 Limitations:
Data display limited to All Activities.
Focused display sections: Website Usage and Application Usage.
Seeking additional data or have feedback? Click on "Looking for Something?" at the bottom of the screen to share your thoughts.
Coming in Version 2:
Drill-down into a single application
Display enhancements like "Student's Monitored by Day/Month", Application Profile, Grade Level, and Individual Student Breakdowns.
New Features
No new features added at this time. Coming soon!
Fixes 
On September 28th the code signing certificate the Reveal product uses to sign its applications and msi's will expire. We have transitioned to a brand new code signing certificate owned by Securly.