Yes, teachers, staff, and admins can block students from signing up for their activities.  In Flex this is called a "Student Restriction".  Admins, who have been designated as "Principals", can easily monitor if/when teachers have placed a student on a registration restriction.  Teachers (and staff/admin who run activities) can temporarily restrict a student from attending their "choice" activities.  Teachers, staff, and admins have the option to set a restriction for one (1) to four (4) weeks. 

To set a registration restriction for a student in Flex, navigate to the "Students > Restricted Students" menu.  From here click on "New Restriction" and complete the window that appears.  Then click "Confirm".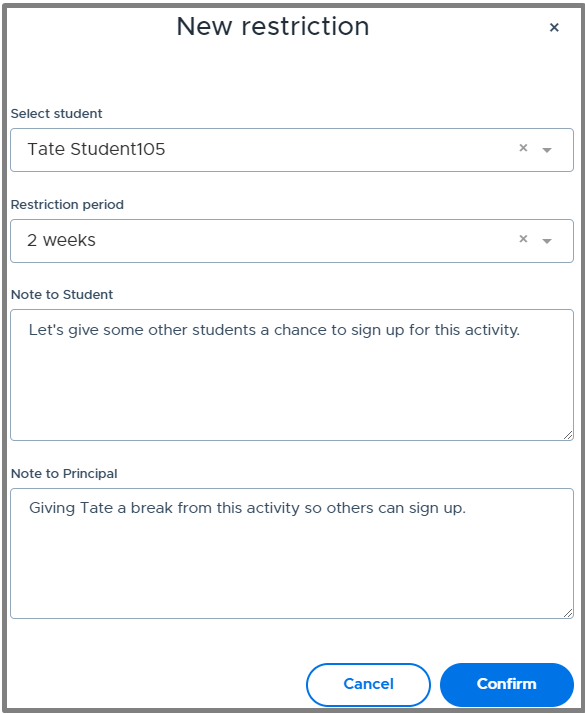 If the following message appears, indicating that the student cannot be restricted, it may be due to the school requiring that the student was present in the teacher's activity within the past 3 days.  (There is more information for Admins below regarding this system setting.)

Additional details for Restricting Students can be found in the Flex system by going to the HELP > Training Videos menu.  
Admin Settings for Restricted Students:
There are two methods of allowing teachers to restrict students.  The setting for this can be found on the "System Settings" screen and is titled "Student Restriction".  
Restriction WITH Attendance or Activity Registration Requirements:  A teacher can set a restriction for a student, but only when the student has been on the teacher's attendance roster, and marked present, at least once in the past 3 days (including today).  The teacher can write a note/reason to the student, which they will receive a notification about and can view in their Flex profile.  The teacher can also write a note to Flex "Principals".  Both will be able to respond.  (Adults will also receive system notifications about restrictions they are associated with and can view messages from the main "Restricted Students" screen.)
Restriction WITHOUT Attendance or Activity Requirements:  This feature will allow teachers to restrict students from attending their Flex class without any registration or attendance requirements.  This means that a teacher can set a restriction on any student, blocking them from registering for their choice activities.  The teacher can include a note/reason for the student and/or Flex "Principals" to see regarding the restriction.   Both will receive system notifications about the restriction and can respond.  

Note:  It's important to click "Save settings" after making a change to the "Student Restriction" options shown below.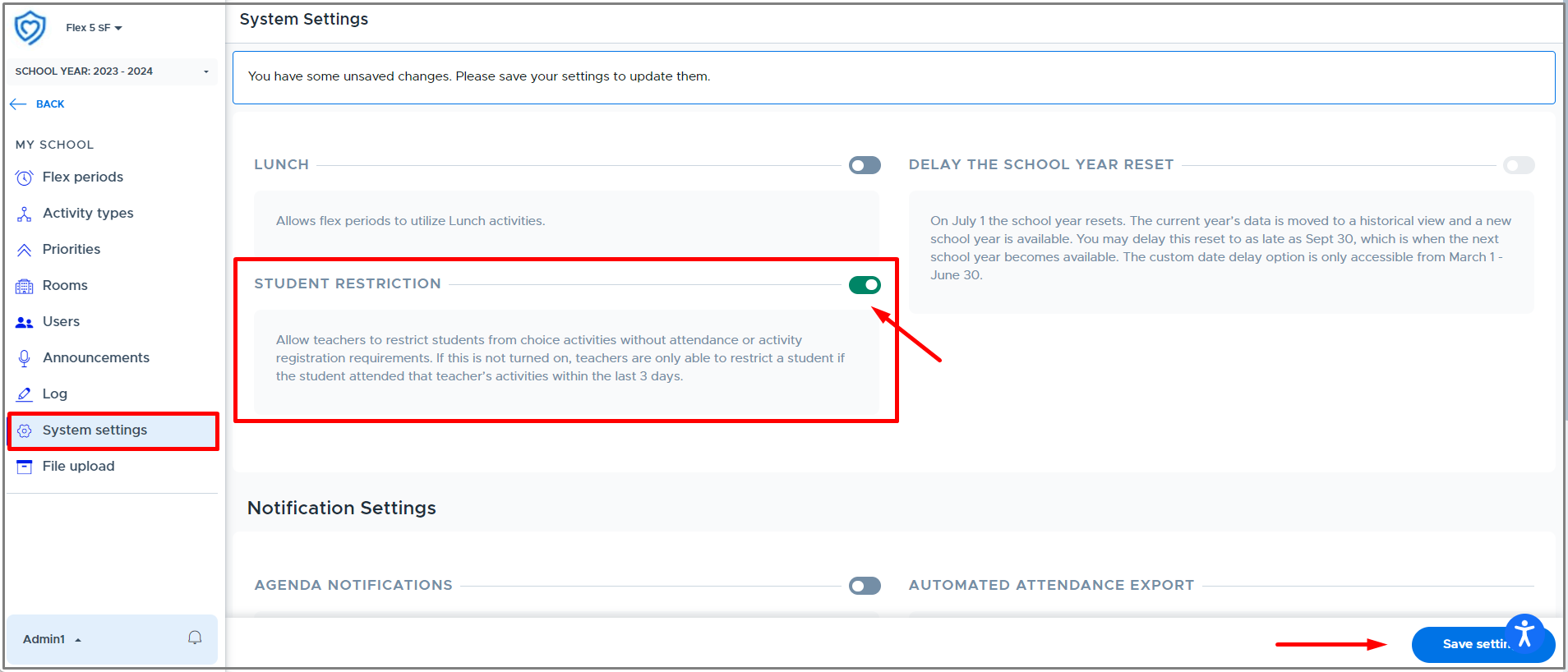 For additional information, please see the "Restricted Students" section in the Flex Admin guide and/or the related training videos.