Users can be added to the Pass system individually from the "Main Users" screen.  It is highly recommended that you don't use this method of adding users if any of the following are true:
The user is in, will be added to, or can be added to Clever, ClassLink, or GG4L and this system is set up to sync users into your Pass system.  

Your school utilizes Google or Office 365 and manages Pass users by importing user CSV file(s) and the user that needs to be added as a school Google/O365 account.  
If it is determined that a new user cannot be added through a 3rd party sync or user CSV file, then the instructions below illustrate how to add a user individually into Pass.  (Please Note: Any individually added user will need to be manually archived by an Pass Admin if/when system access is no longer needed.) 
When adding users individually, the user will be able to log into Pass by using an assigned "manual" password or through Google or O365 single sign-on (SSO).  
1 - Under the Control Panel > User Management > Main Users, click the arrow in the "Add User (full access)" box shown below.  
2 - Click "Yes" at the message shown below - if you wish to proceed.  
Please see the additional notes below:
This message spells out that when entering a user individually, you will not be selecting a specific "login type".  Rather, if the user will be logging in with Google/O365 SSO, then leave the password field blank.   If they will be a "manually authenticated" user, enter a password that will be managed in Pass.
For users who are "manually authenticated", Admins may need to assist in resetting their passwords in your Pass system and, as mentioned before, will need to manually archive them when needed.
Additional details are available in your Pass system by clicking on the round on the "Add User" window. 
3 - Enter the following information on the "Add User" screen:  Role (admin, teacher, staff, or student), First Name, Last Name, Email (using the school's email domain), Active, Password/Confirm Password (see notes below), Prevent Archive (checked). 
For a Student, these additional fields should be completed:  Grad Year, Student Number, and Kiosk Password (if being used).
The "Prevent Archive" button will default as checked for a new user.  This prevents the user from being automatically archived if/when your school syncs with a 3rd party or uploads a new user CSV file.
For example:  If Pass syncs with Clever every few hours or a user CSV file is sent via SFTP each night and this user is not included in that source, by having this box checked the user will not be archived.)  
When entering a "manually authenticated" user, meaning their password is designated and managed within your Pass system, the "Send Invite" button can be selected.  This will send the user an email with a link to set up their password in your Pass system.  (Please keep in mind that the "Send Invite" option only works for users being added with a valid email address.  The invite will only be sent the first time that a manually added user is created in Pass.)  
There may be cases where an Admin is adding a new "manual" user that does not have a valid email address.
Admins will need to assist students with resetting their passwords, or the student can use the "Forgot Password" option on the login screen.
4 - Click "Submit".
"Manually authenticated" users will enter their credentials to log into the system.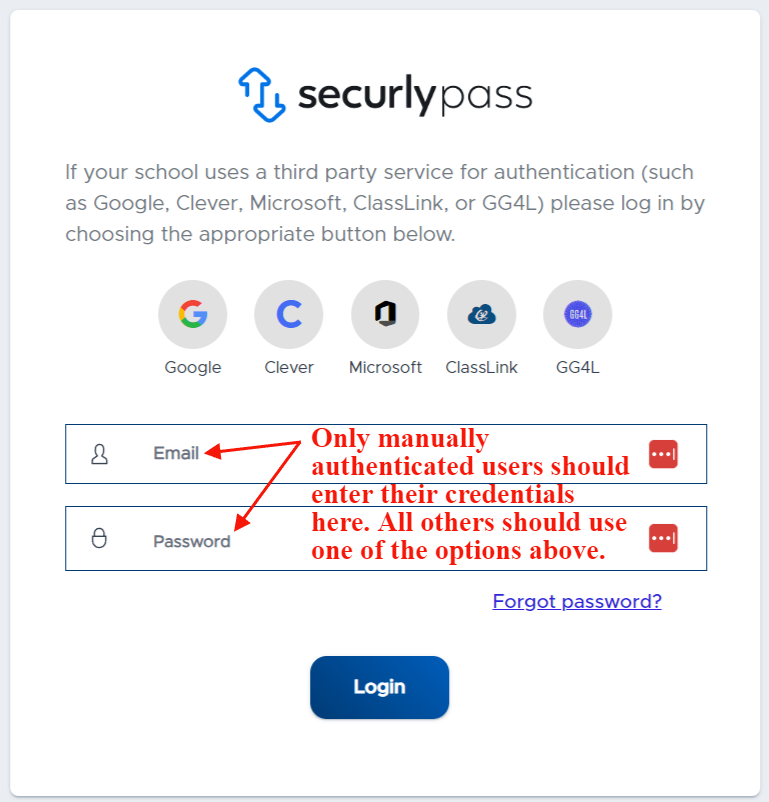 Please go to Training > Documents > Admin Pass Training Document Index > Administrator Guide for more information on "Adding Individual Users ".