February 28, 2023
New Features
No new features released at this time, however, stay tuned for some exciting updates in the coming weeks. 
Enhancements
Grade Level Usage Data Display 
The Reveal solution now has the ability to display grade level usage data as part of an application/website review. This grade level data can be displayed for a single school/organization or for the entire district.
See highlighted sections below as an example.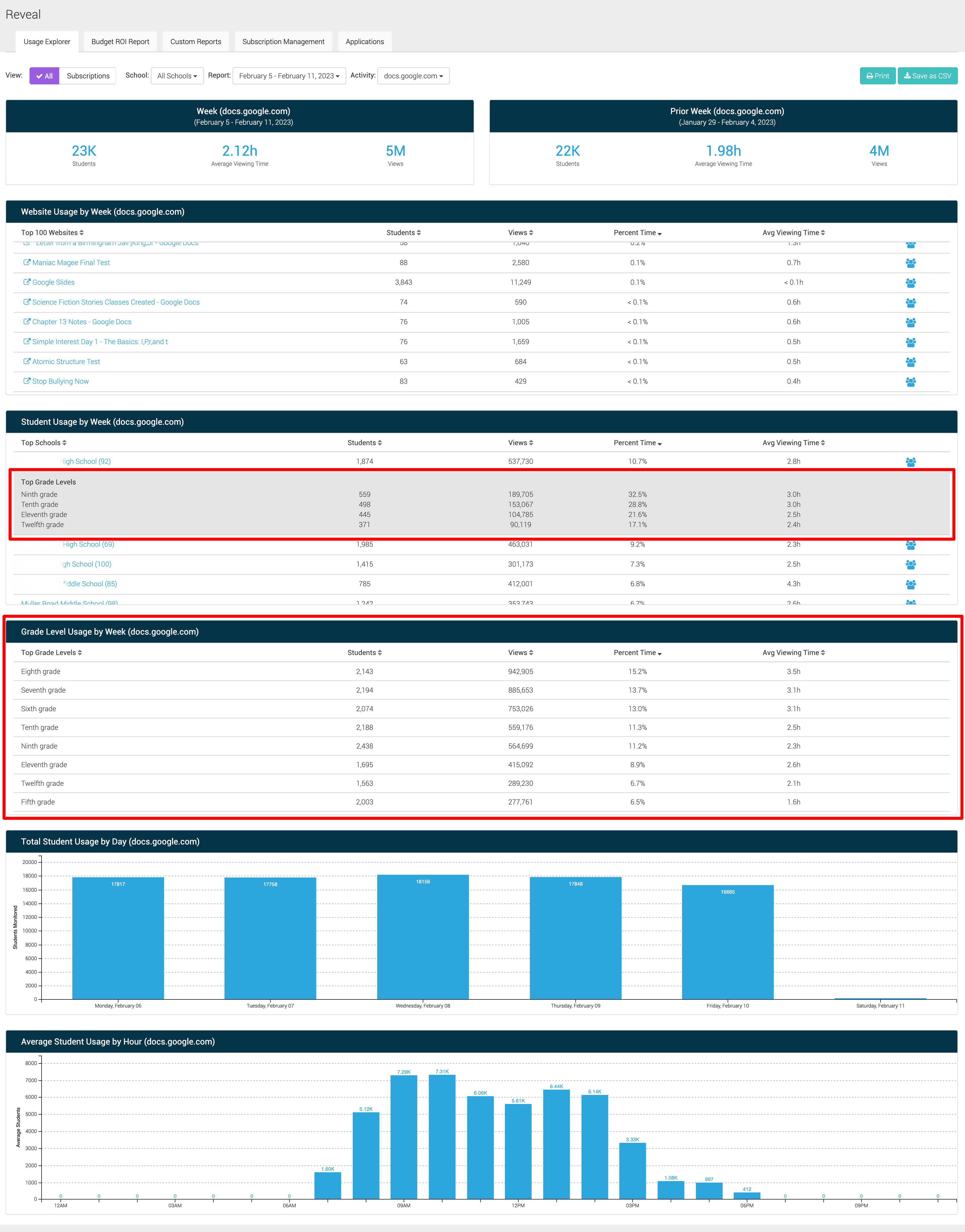 Note: Student device usage data aggregated by grade level is only available if grade level data is part of your nightly SIS import. For more information check out our "How to use Import Manager?" support page HERE 
Domain Changes  
The below email was sent to all Reveal and Dyknow Classroom clients on February 21, 2023. It is being posted here for additional visibility. 
Dear Admin
We are writing to inform you of upcoming changes to our product that may impact your setup. These changes are designed to improve the security and functionality of our solutions.
Firstly, we recommend making changes to your content filter settings. Currently, the dyknow.me website is served from the s3.amazonaws.com domain. This domain is shared across all of Amazon, and requiring it to be allowed is overly permissive. To address this, we will be moving the two resources still pointing to the s3.amazonaws.com domain to dyknow-static.s3.amazonaws.com and dyknow-cloud-downloads.s3.amazonaws.com. We invite you to update your district's content filter to allow these new URLs to ensure uninterrupted service.
Secondly, disabling monitoring for a school in Blackout Settings prevents teachers at that school from starting their class. This is current functionality. However, if the teacher and class are associated with a different school than the student, this has unexpected behavior. Currently, a student enrolled in a school where monitoring is disabled will join classes for a school where monitoring is enabled. The coming change will correct that error and ensure that disabling monitoring for a school prevents that student from being monitored. This is a change in behavior, though, and if you have disabled monitoring at schools, this will lead to students not showing up for your teachers. 
We understand that these changes may require some adjustment on your part. If you need any help navigating these changes, please do not hesitate to reach out to our customer support team. They are here to help and ensure that you have a smooth experience.
Have a wonderful day!
The Securly Product Team 
Fixes
Fixed a number of support page/resource links on support.securly.com