For staff members who need Rhithm access but aren't included in your district's roster sync, you can add them manually by sending an account invite. Invited users will receive a link to their email that allows them to set up their Rhithm account.
Campus administrators can invite teachers and other campus administrators to their campus

District administrators can invite teachers or campus administrators to a campus, or invite a new district administrator to the district
---
Sending a single user invite
Campus administrators
From the "Settings" page of your account, click Invite user in the top-right hand corner.
Click the Single User Invite tab, then enter the invitee's first name, last name, and email address and select their role type. Finally, click the checkbox acknowledging this user is managed outside of your roster sync, then click Send Invite.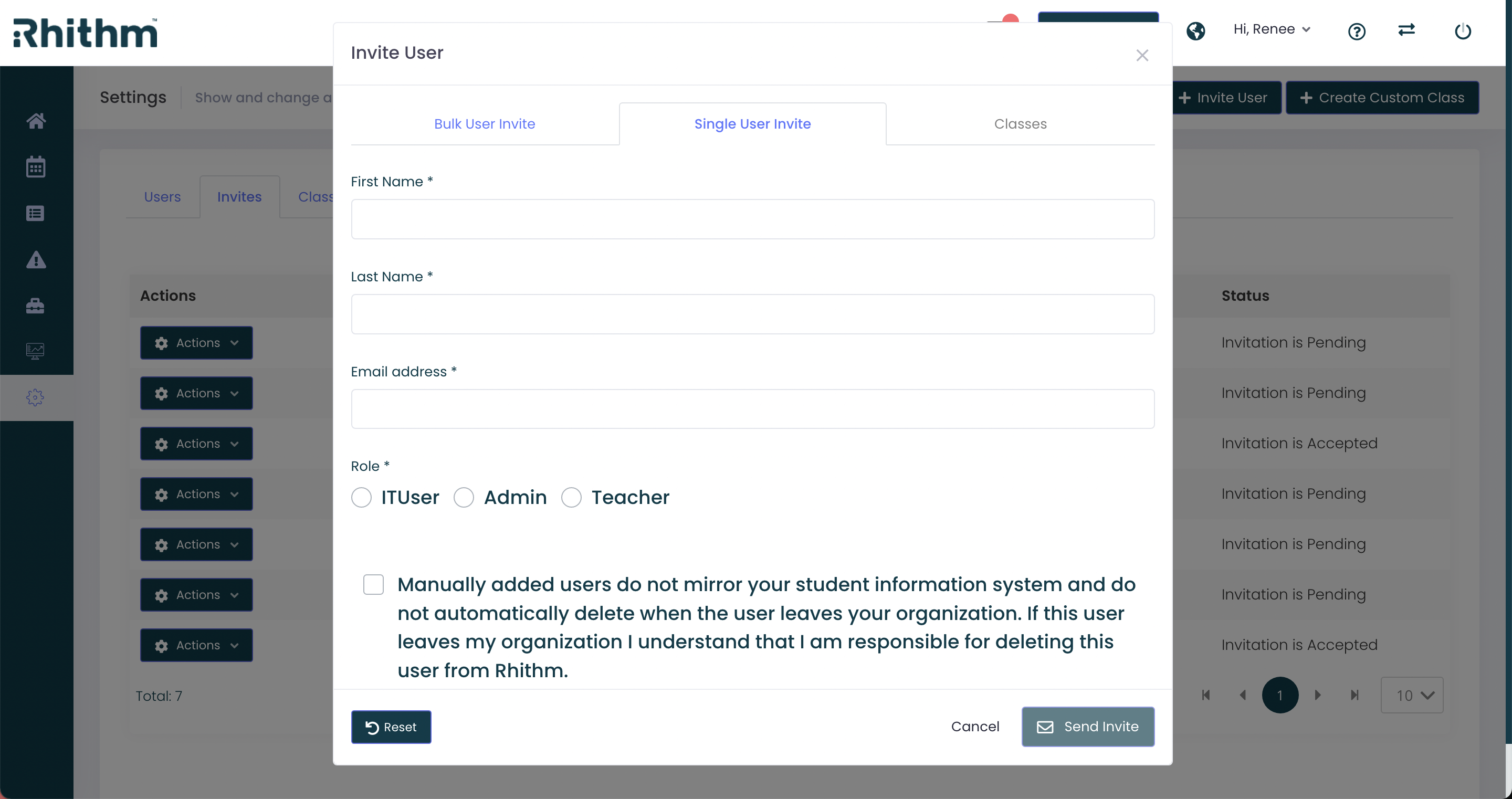 District administrators
As a district administrator, after clicking Invite user from your "Settings" page, you'll need to first select the campus to which you're inviting a user. After this, follow the steps above to send your invitation.

To invite another district administrator, click "Next" without selecting a school, then fill in the invitee's information and click Send Invite.
---
Sending bulk invites
Select the Bulk User Invite tab to send multiple account invites at once. From here, you can click "Browse" to upload a CSV file that lists the first name, last name, email address, and role type of the users you're inviting.
❗Note: District administrators will need to select a school before uploading a CSV. Bulk invites can only be sent to users one campus at a time.

Once you've uploaded a CSV list and clicked the checkbox acknowledging these users are managed outside of your roster sync, click Send Invite.
You can also click "Download" for a CSV template that you can re-upload to send invites.

Example format:

---
Managing invites
After a user has been invited to Rhithm, you'll see their name listed on the Invites tab of your "Settings" page. The far-right column will show if the invite has been accepted or is still pending.
For users whose invites are still pending, you can click the "Actions" menu to revoke the invitation or re-send them an email invite.