The Rhithm Toolkit is an expansion of the previous "Activities" page, giving you enhanced access to our library of 400+ English and Spanish videos. You can quickly search for videos or browse content aligned to different needs, frameworks, and standards, all designed to equip you with the tools you and your students need to get regulated and stay well.
To get started, click "Toolkit" on the left-hand menu:

---
Searching for videos
To search for videos based on keywords, you can enter terms in the search bar that says "I'm wondering about..."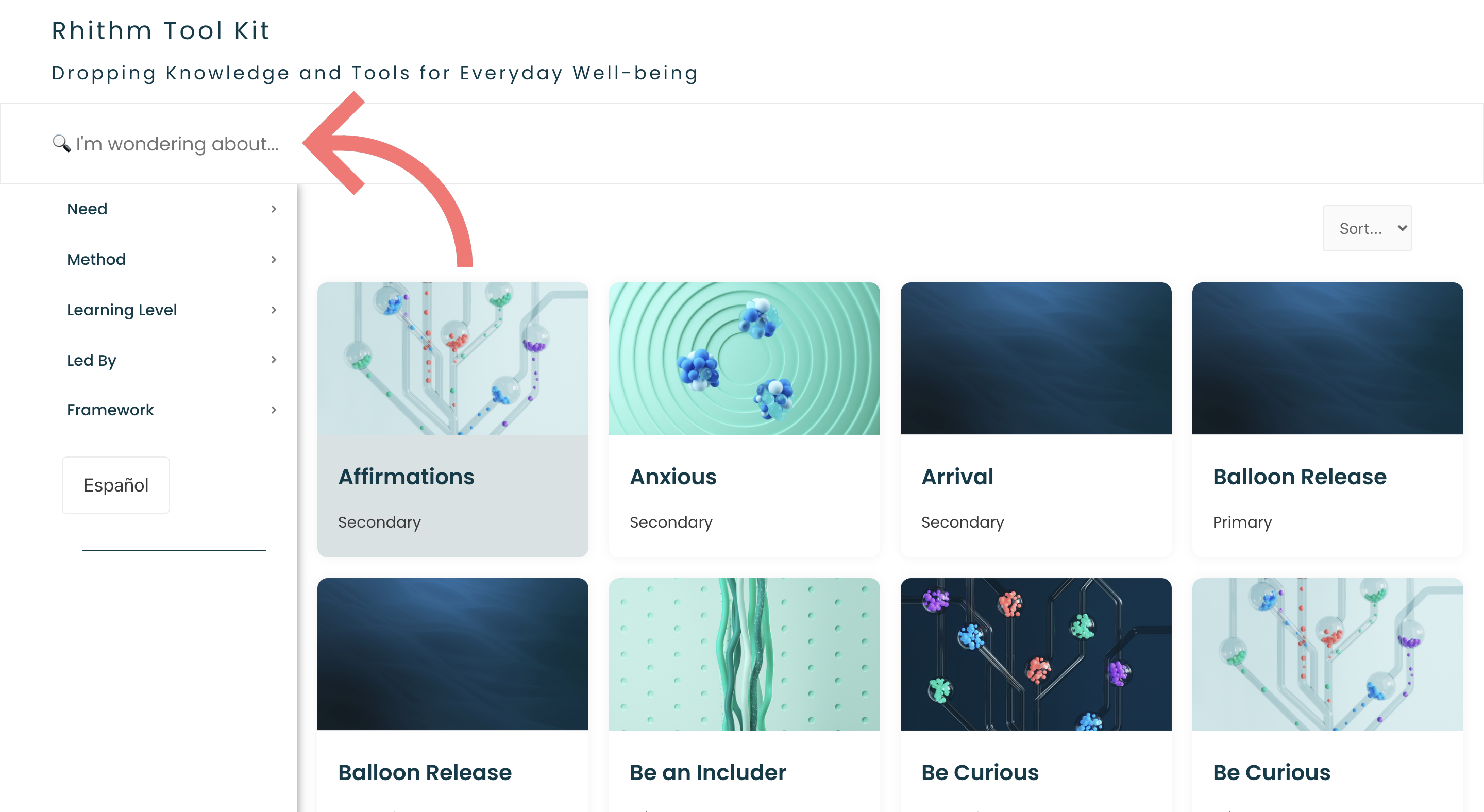 The search bar allows you to enter the name of the specific video you are looking for to locate it quickly. It is also great way to find similar videos to ones you may have seen in a recent Rhithm check-in or browse topics you're curious about. You can clear your search terms at any time by clicking the "X" in the search bar or by clicking Remove filters in the bottom-left corner.
---
Filtering by alignment
You can also browse video content using the following filters: need, method, learning level, and framework. Hover over a category and click on a specific option in order to select or deselect it.
💡 Enjoying narration by a specific Rhithm Voice? You can use the "Led by" filter to find videos led by your favorite narrator.
Need
The Need filter allows you to find video content aligned to your or your students' current needs based on where you currently fall in the regulation spectrum.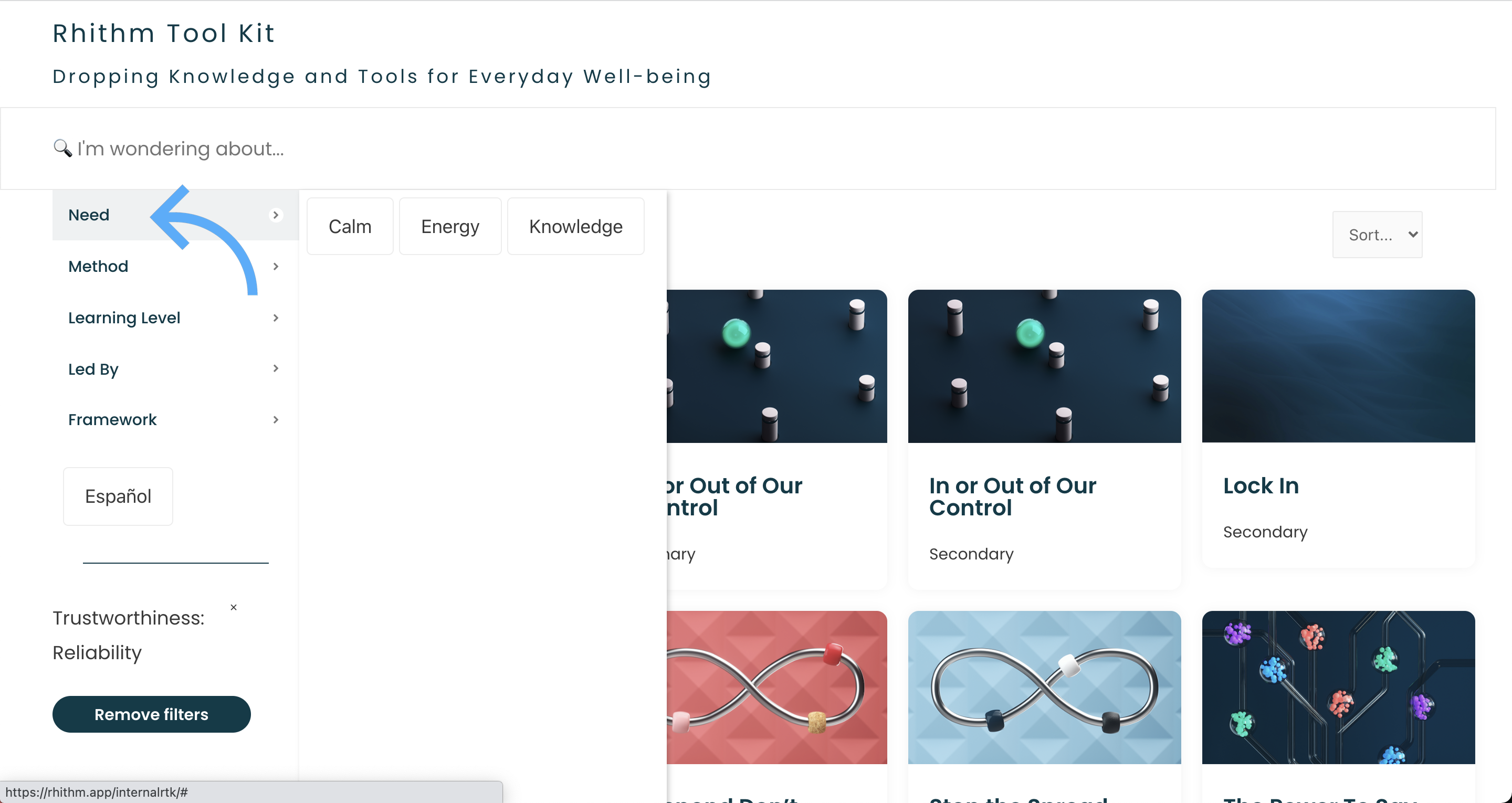 For example, if you or your students are in the "Yellow" or "Red" high-energy zones, the activities under Calm can help regulate you in that direction towards the "Green" zone.
Similarly, the Energy filter shows videos that can help raise energy levels out of the "Blue" or "Violet" low-energy zones.
Finally, the Knowledge filter contains videos that are lesson-oriented instead of focused on self-regulation. This is great for times when you are regulated (in the "Green" zone) and looking to learn a bit more about our various topics. All videos give you the opportunity start and end with a breath along with our Rhithm logo.
Method
The Method filter allows you to select the specific way you would like to find calm, energy, or knowledge. For example, you can find calming videos that include breathing, imagination, movement, and mindfulness activities. Similarly, you can view knowledge videos that relate to mindset, social lessons, self-care, and mindfulness.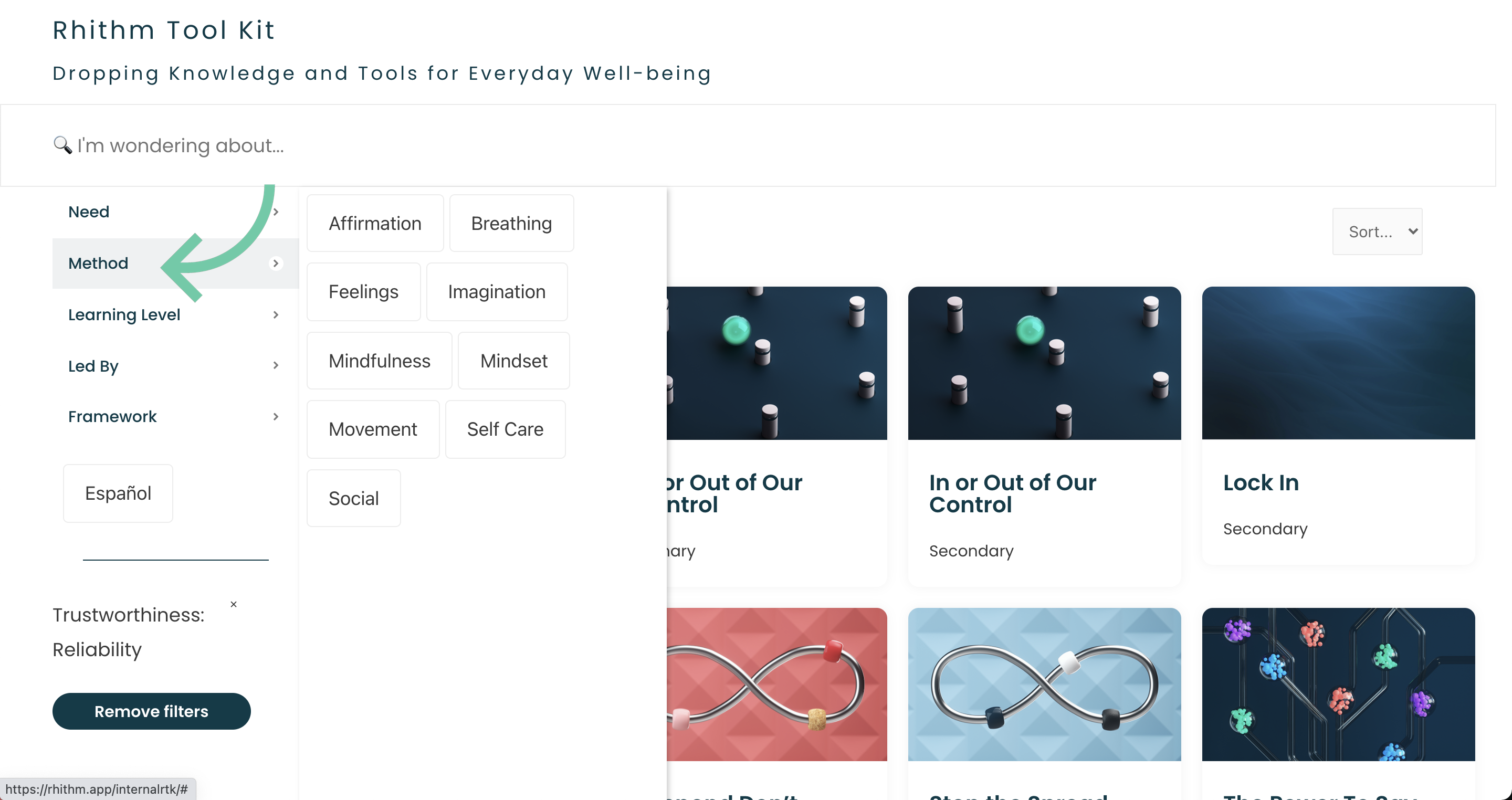 Learning level
You can filter videos by learning or grade level by selecting either "Primary" or "Secondary", or by selecting the specific grade levels you'd like to view video content for. The "Primary" button will filter for grade levels PK-5; The "Secondary" button will filter for grade levels 6-12.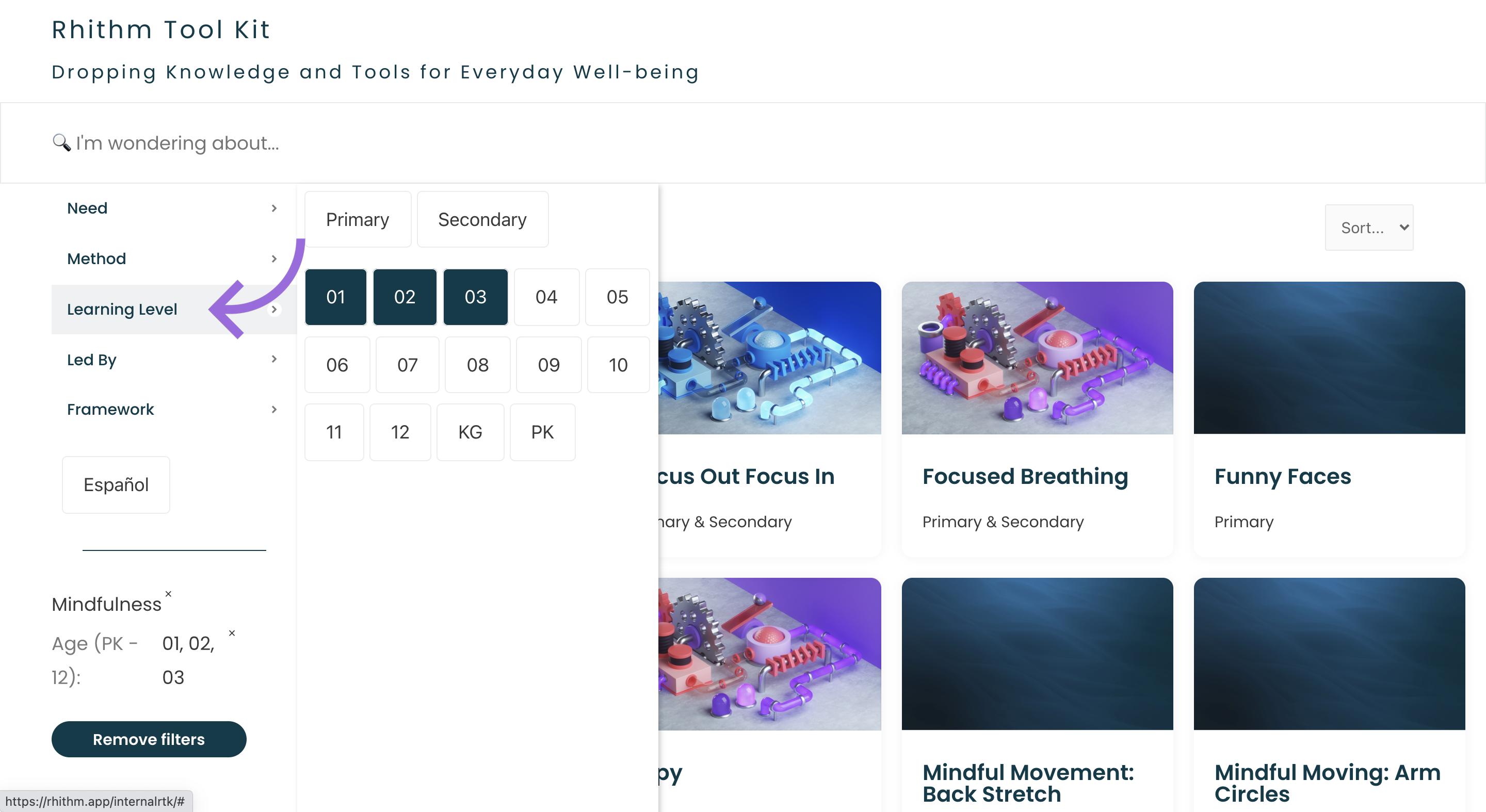 💡 Tip: You can also combine the learning level filter with other filters. For example, if you're looking for calming videos appropriate for high school students, choose "Calm" under Need and "Secondary" under Learning level.
Framework
If you'd like to find content aligned to different theories, frameworks, or standards, you can filter by:
The CBT (Cognitive behavioral therapy) triangle

DBT (Dialectical behavior therapy) pillars

ACT (Acceptance & commitment therapy) core processes

CASEL (Collaborative for Academic, Social, and Emotional Learning) competencies

TEKS (Texas Essential Knowledge and Skills) strands and character traits

 
To filer by a framework, click the "+" icon next to the category, then click individual options to select or deselect them in the filter.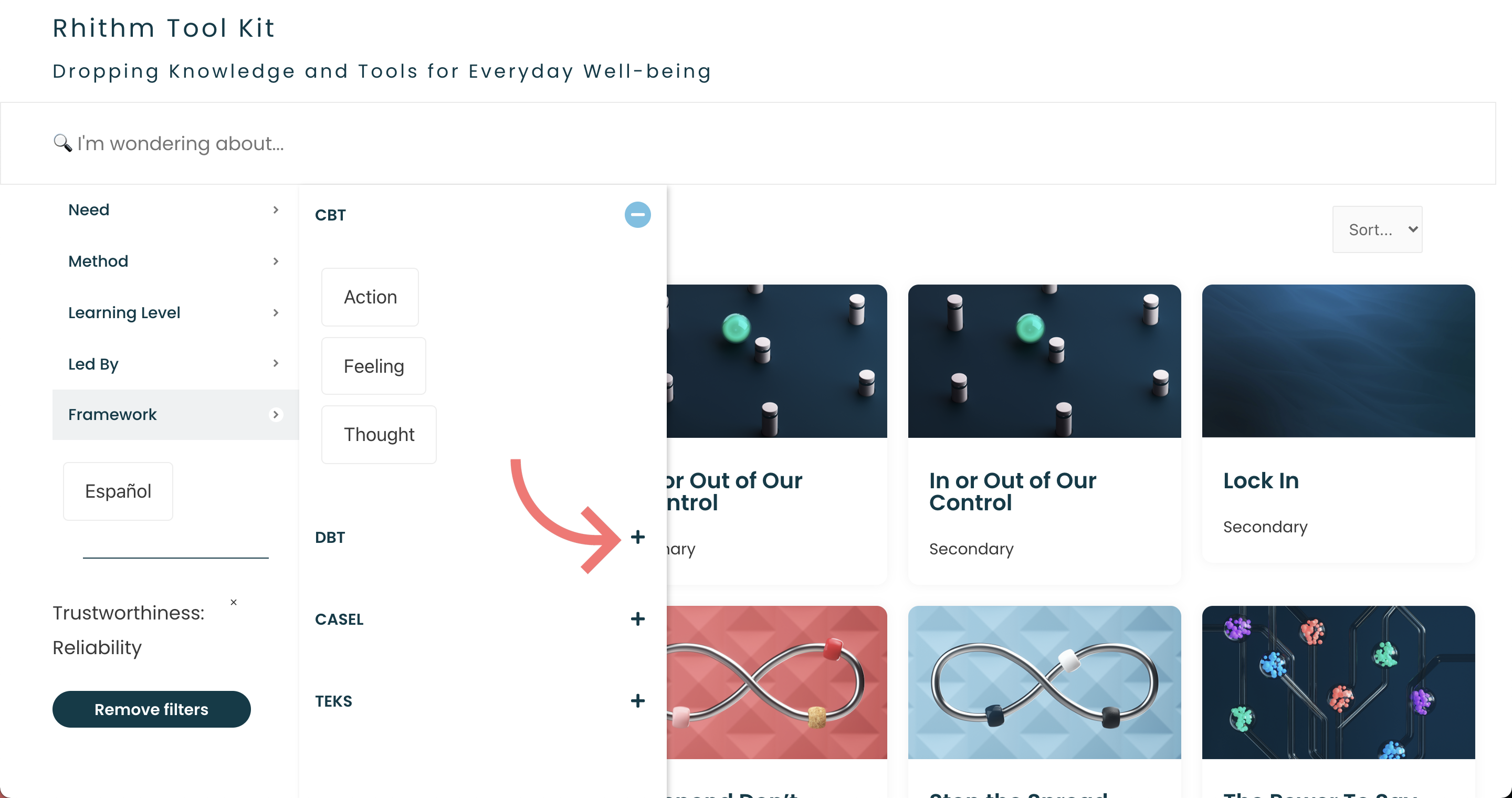 ---
Video walkthrough