The Aware dashboard is the primary interface that admins would interact with to get district-level and student-level information about student wellbeing. It facilitates early intervention by giving admins a view into students most in need.
The Aware dashboard is available to faculty groups/staff by default as well. To ensure user privacy and manage staff load, they are shown data only for students belonging to the Org units or Security groups assigned to them.
To start using the Aware dashboard it is necessary to map Organizational units (OUs) with Aware. You can do this via the OU management tab in Aware, and if you are a Filter user you can do that through the policy map. These KBs walk you through importing OUs from G Suite and importing OUs from Azure AD.

Once your OUs are imported, you will see the complete Aware dashboard. Here you can see a broad picture of the wellness levels for students below all clear/green and the students who fall into the Critical band and need urgent attention. You can click View all to get the details of students in the critical band and investigate deeper by viewing their flagged searches and site visits that contributed to the drop in wellness level.

Both student-level and big-picture information are displayed in the form of easy-to-consume graphs. While you are displayed the past week's activity by default, you can also choose specific time frames to view this information. Information is further broken down by source so that you know where disturbing activity is mostly coming from - Gmail, GDocs, Searches, etc; and sentiments such as grief, self-harm, violence, etc.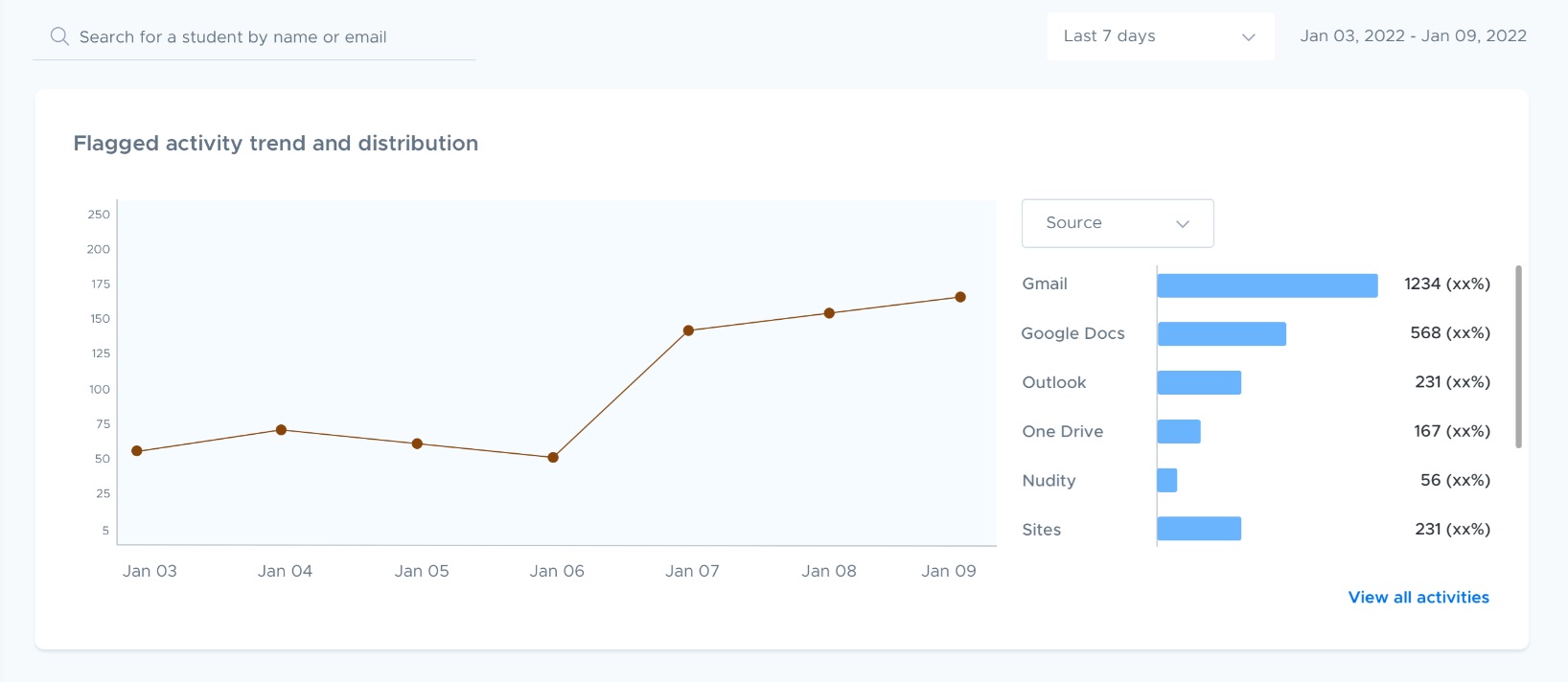 Further down the page you will find a breakdown of flagged activity by day and time of day, as well as during and after school hours. This makes it easy to see patterns and figure out the right way to intervene.

The Securly Aware dashboard is a powerful tool that provides information at as broad or granular a level you wish to see, empowering you manage student wellness at your school.